SyddWare's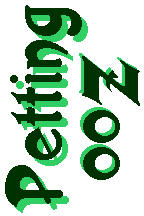 Jeffrey R. (Sydd) Souza
Im Aufbau
---
Welcome to Sydd's Internet Petting Zoo. Here you'll find a collection of pages each dedicated to a different Farm Animal. This started out in Dec 1995 with my Duckies on The Web page which came from my search of images of rubber duckies to go with my logo. Then came the page that was supposed to be dedicated to Piggy Banks, but became PIGS IN (Cyber)SPACE after it became evident that there just weren't many links related to piggy banks, but lots of pigs out there. It soon ballooned into other animal link pages until I finally had to start a Farm to tend to all this livestock.
Before you shy away, assuming these are pages with technical info on the care and feeding of these animals, take a look. There's actually almost none of that. In fact there's something for everyone here: Kids links, Rock Bands, Coffee Vendors, Brewries, on-line catalogs, personal pages, you name it. Check out the pig decoys, or Ducky the duckbilled dinosaur, or the Marshmallow Peeper page.
If you'd like to contribute a link to an existing page or a whole new page on a particular area resident, read my miniscular guidelines for pages on this site. Come back soon, these things are changing often. Click on the Jumping Beetle at the bottom to see the SyteMap.



SyteMap
---
To Contact SyddWare email info@syddware.com


SyddWare